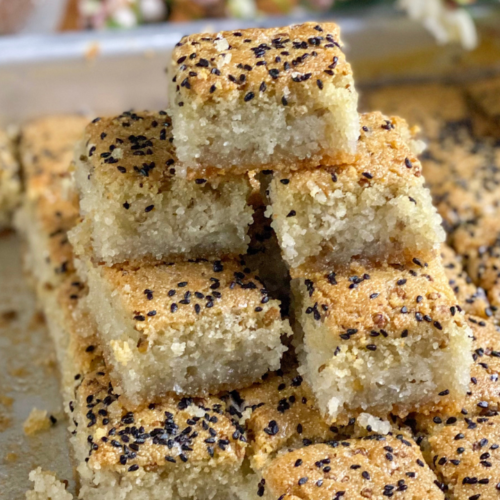 Fenugreek Sweet
Notes
Ingredients
Semolina- 6 cups
Olive oil- two third cup
Fenugreek seed- ½ cup (Boil it with 1 litter of water)
Yeast- 1 ½ tsp (Dissolve in I cup of fenugreek water)
Tahina to batter the try
Black seed-3 tsp
For sugar syrup
Sugar- 3 cups
Water- 1 ½ cup
Lemon juice- 1 tsp
Directions
Sugar syrup
Dissolve sugar in water. Let the syrup boil and reduce till slightly thick about 2 min
Add lemon juice. Let cool for use later in the recipe
Semi dough preparation
Keep a cup of the water used for boiling the fenugreek. Allow it to cool to room temperature. Stain it and keep the water for dough preparation
In a large bowl mix the semolina and olive oil. Mix it properly, then add boiled fenugreek followed by dissolved yeast and water. Prepare like a semi dough
Let the dough rest for 30 min up to 1 hour
Then spread it in a pan battered with tahina. Sprinkle the top with black seed
Cut the dough into diagonal shapes.
Put into 180 degrees oven for 45 minutes till the top is nicely browned.
Pour on top with sugar syrup.