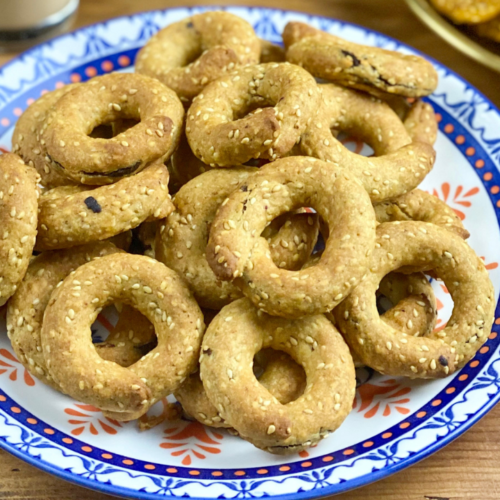 Round Bangal Mamool
Notes
Ingredients
All purpose flour: 500g
Whole-wheat Flour: 85 g
Extra virgin olive oil- 335 ml
Roasted sesame seeds-175 g
Milk powder- 40 g
Baking powder- 3.5 gm
Yeast- 3 gm
Anise seed powder-  1 tsp
Anise seed water-  240 ml
Filling
Dates paste-1kg
Walnuts- 100 gm
Extra virgin olive oil- 3 TSBP
Rose water- splash
Cinnamon powder 1 tsp (optional)
Directions
First, prepare some anise seeds water.
       Boil water with anise seeds and set aside to let it cool.
In a large mixing bowl, combine two flours, oil, sesame seeds and mix well.
Add milk powder, baking powder, yeast, and anise seed powder, mix it well.  
Add the aniseed water, mix it until it forms a homogeneous dough.
Let the dough rest 10 to 15 minutes at room temperature.
Roll the dates mixture like a finger shape. Take some dough flatten it, put the date finger in the middle and roll them together. Bring the edges together to give a bangle shape.
Pre-heat the oven to 200 degrees Celsius and bake for 6 to 8 minutes.