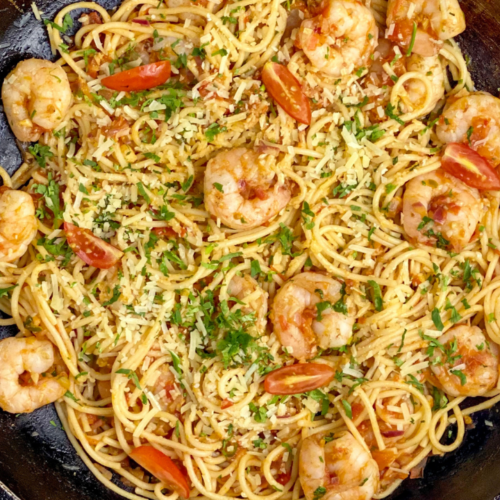 Shrimp Pasta
Notes
Ingredients:
300 gm shrimp- 300 gm after cleaning
Chopped onion- 3tsp
Garlic cloves- 2 chopped
Chopped Tomatoes- ½ cup
Crushed tomatoes- 2 tsp
Green chilly optional
Olive oil- 4 tsp
Lemon juice- 1 tsp
Ground white pepper
Parsley for garnish
Boiled pasta to serve
Finish it with parmesan cheese
Directions:
In a large pot of boiling salted water, cook pasta, drain it and keep aside
In a hot frying pan add olive oil and toss the shrimps. Keep aside
Add olive oil in same frying pan and add chopped onion, garlic and chili. Stirring frequently, until fragrant, about 1-2 minutes. Then add chopped tomato, tomato puree and salt and some of the pasta boiling water.
Add the shrimp and cook, stirring occasionally, until pink, about 1-2 minutes then add lemon juice
Add pasta and stir well and remove from heat and sprinkle chopped parsley and parmesan cheese.