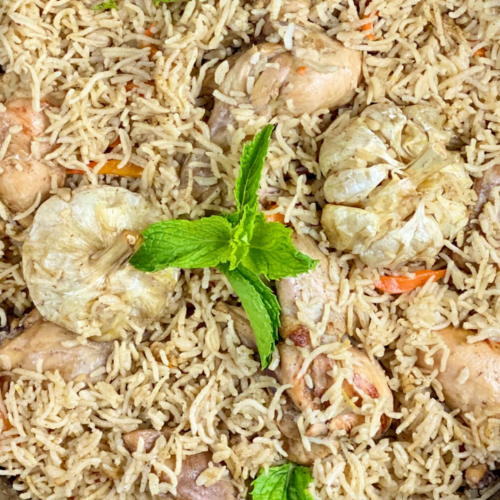 Uzbaki Rice with Chicken
Notes
Ingredients
Whole Chicken- Cut into 8 pieces
Sliced onion- 2cups
Sliced carrots- Half a cup
Washed raisins- ¼ cup
Crushed garlic- 1 tsp
Minced ginger- 1 tsp
Ground cardamom- 1tsp
Ground cumin- 1 1/2 tsp
Whole cinnamon stick- 2 pcs
Cardamom whole- 2pcs
Clove whole – 2pcs
Bay leaf- 2pcs
Oil- 2tsp
Ghee- 2tsp
Basmati rice (Washed and soaked)- 1.5 cup
Egyptian rice (Washed and soaked)- ½ cup
Salt- for taste
Broth for cooking
Whole garlic- 2 pcs
Directions
In a hot pan, add oil and ghee followed by bay leaves, cinnamon stick and cardamom. Then add onion and cook until translucent. Add the chicken toss it well, add minced ginger and mix well
Add the carrot and raisins, cook 1 min further. Add the spices and salt, stir for few seconds.
Pour broth and cover it. When the water comes to a boil add the rice, When the water reduced place the whole garlic and cover tightly and cook for 15 minutes on lowest heat.
After cooking let the rice rest for 10 minutes before open