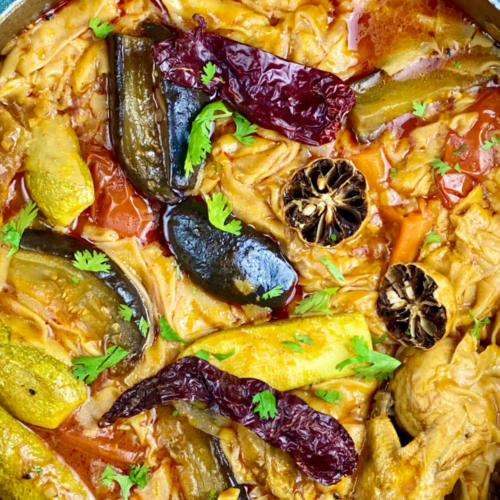 Marqouqa
Notes
Ingredients
Chicken cut into 8 pcs
Eggplant, carrots- 1 pcs (as per your choice)
Large onion-1pcs
Large tomato- 2pcs (cut into 8 pcs)
Tomato paste- 3tsp
Oil-3-4tsp
Gulf spices- 3tsp
Cinnamon stick- 1pcs
Black pepper corns- 4pcs
Clove- 2pcs
Whole Cardamom- 2
Whole dried lemon- 2 pcs (Partially opened)
Small black seeds- ¼ tsp
Half packet of ready samosa sheet dough
Broth or water for cooking
Directions
Heat the oil in a big pot, fry the onion until tender, add the chicken, spices, green chili, crushed garlic and stir well over medium heat.
Add the tomato paste, mix, add the boiling broth, prickled limes and cook until a thin soup is formed and the chicken is half way cooked. Add the boiling water if necessary. Add the vegetables Cover, simmer over low heat until the vegetables are almost cooked.
Drop the samosa dough one after the other, carefully mix a few times from down to up, to prevent the dough from sticking to the bottom of the pot. Add the boiling water if necessary, cover, simmer occasionally mixing as described above until the dough is cooked.
Serve the cooked dough in a large deep serving dish, covered with meat, vegetables and dried limes.
Follow the link below